Integrating with MailUp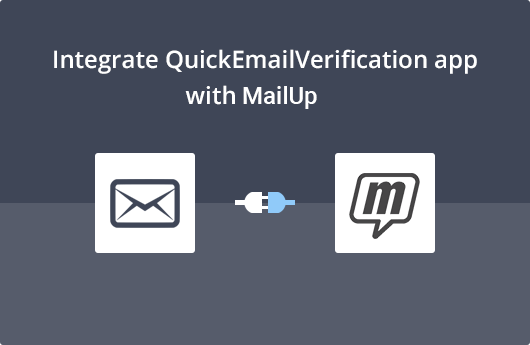 Getting Started
This document will help you easily use QuickEmailVerification and MailUp together with a simple integration process.
To use this integration you'll need:
Your QuickEmailVerification account credentials
Your MailUp account credentials
You can sign up and create an account right away if you haven't signed up for QuickEmailVerification yet. Along with the account, you will get daily 100 free credits for email verification.
Once you are all set with the credentials, you are ready to begin the integration process.
Connect with MailUp
Sign in into your QuickEmailVerificiation account. You'll see an Upload Email List button. Click on the button and you'll be taken to the next screen.

On that screen you'll see a screen similar to the one below. Its contains two sections:
Upload From Computer
Import From ESP
Click on Import From ESP. As you wish to clean your recipient list from your MailUp account click on Import From MailUp from the list of ESPs we've partnered with.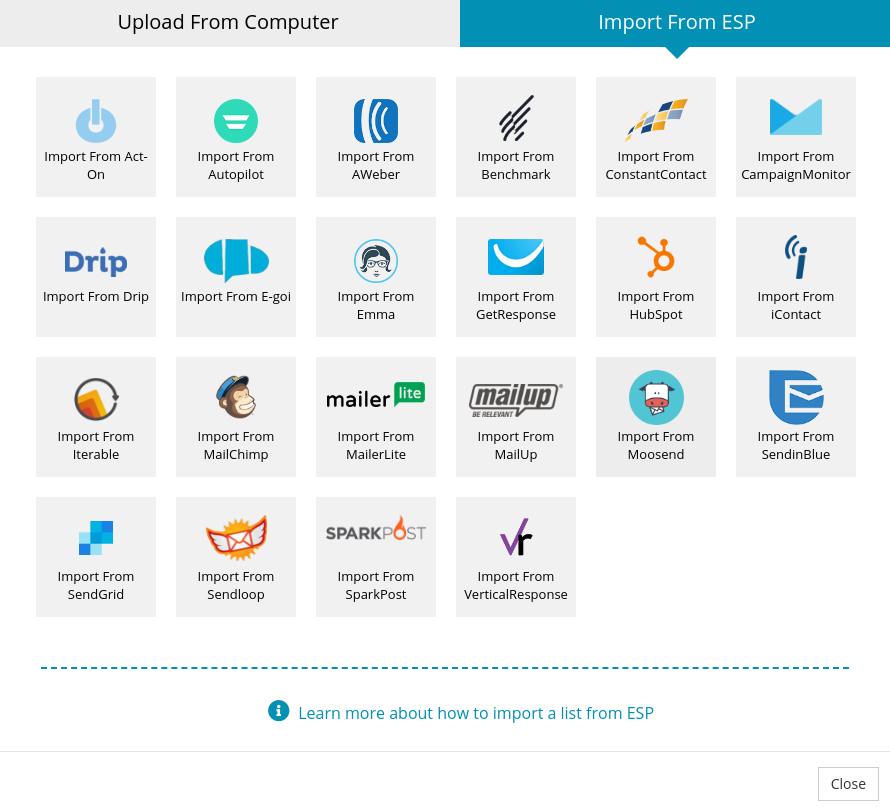 Next, enter your MailUp credentials to proceed.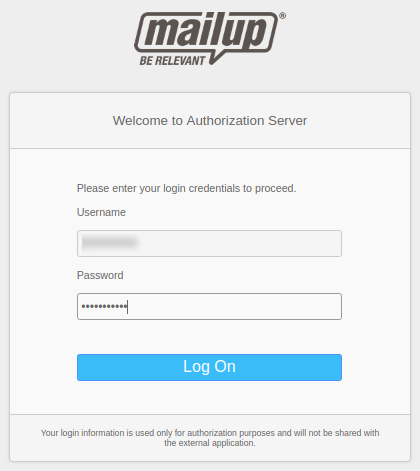 QuickEmailVerification does not store the MailUp credentials entered in above login page and it's accessible only by MailUp.
Import Recipient List from MailUp
After you log into your MailUp account, a new window will appear asking you to authorize QuickEmailVerification to access your MailUp account. Click CONFIRM. This access enables QuickEmailVerification to import your recipients list.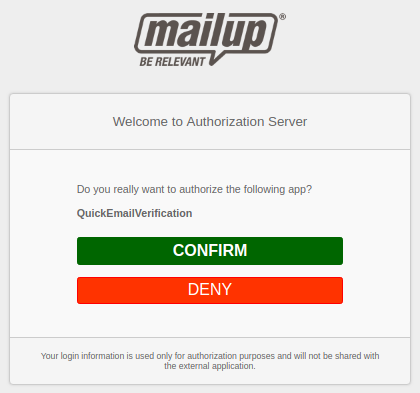 On the next screen, you'll see a screen containing recipient list in a drop-down menu. You can select the recipient list you want to verify and click Import.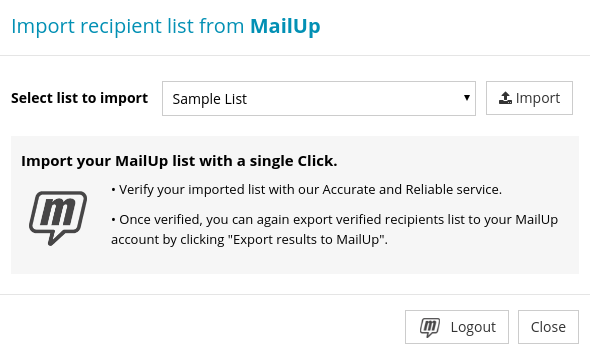 Once your list is imported and ready for verification, you will see the Start button next to your list. Click on Start and the email verification process will begin.

The time taken for the verification process depends on the number of recipients in your recipient list.
After you click Start, you are free to logout and carry out other activities while the verification process is going on. Logging out will not interrupt the verification process.
Export results to MailUp
When the verification process has been completed, you will receive an email saying the list is clean and ready for download. With this, the list is ready for the next step.
If you had logged out after clicking on Start, you'll need to login again before you reach this window.
In your QuickEmailVerification account, along with the verification result summary, you'll notice the Download button next to the cleaned list. Click on Download.

Click on that button and you'll see modal box. Select Export results to MailUp.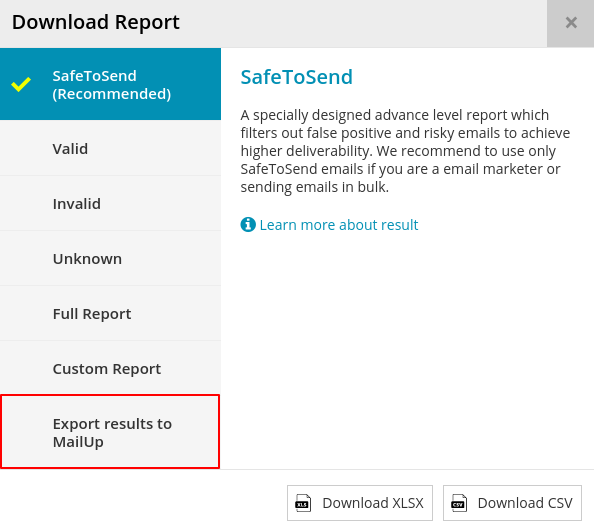 Now you are at an important stage. Here you can decide which emails you'd like to add into the newly created contact list.
Of the many checkboxes you see, some checkboxes are already checked by default.
The first section of the window shows the email addresses that are safe to send. Email addresses corresponding to this checkbox will enter the new contact list. Make sure this box is checked.
The second section of the window shows email addresses that are classified as Role, Disposable and so on. You don't want these email addresses to get into your new contact list. If you uncheck a box, email addresses associated with that box will enter your new contact list. We recommend you keep the boxes checked so that these email addresses do not enter your new contact list.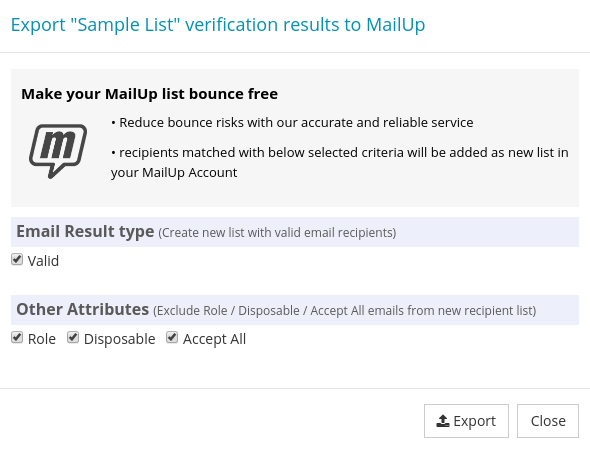 Now click Export to export emails. The next screen shows you a confirmation message. Click Yes Proceed to confirm.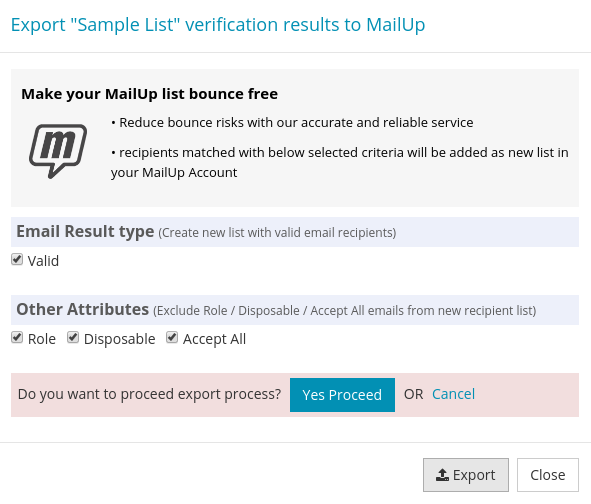 After your confirmation, the system will begin creating a new list as per your choices. At this stage, you'll receive another email telling you a new list has been created.
That's it!
Yes, the integration made the updating of your Recipient List easy and quick. When you use the updated Recipient List, you can expect to get a much higher deliverability rate, nearly zero bounces and a better campaign ROI.
In case if you need any help, please do not hesitate to reach out to us at support@quickemailverification.com