Integrating with MailerLite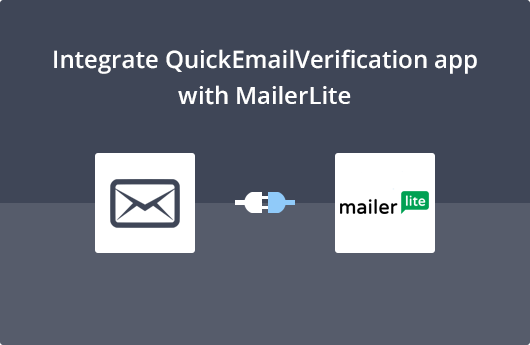 Getting Started
This doc will assist in better understanding and using the integration of QuickEmailVerification with MailerLite. By using this integration, you can validate your mailing list, which will cut your bounces to almost zero, hugely increase your deliverability and improve the impact of your campaigns.
It's easy to begin, you'll just need
Your Account credentials of QuickEmailVerification
Your Account credentials of MailerLite
In the unlikely event that you haven't signed up for QuickEmailVerification, you'll want to do so right now. That's because once you signup, you can verify 100 email addresses daily, absolutely free!
Now you are all set to start.
Connect with MailerLite
Sign in into your QuickEmailVerficiation account. You'll see an Upload Email List button. Click on the button and you'll be taken to the next screen.

You'll see two tabs
Upload From Computer
Import From ESP
Since you'll be cleaning your mailing list you hold with MailerLite (your ESP), click on the tab Import From ESP.
When you click Import From ESP, you'll see a list of practically all the major ESPs on the next screen. Click Import From MailerLite.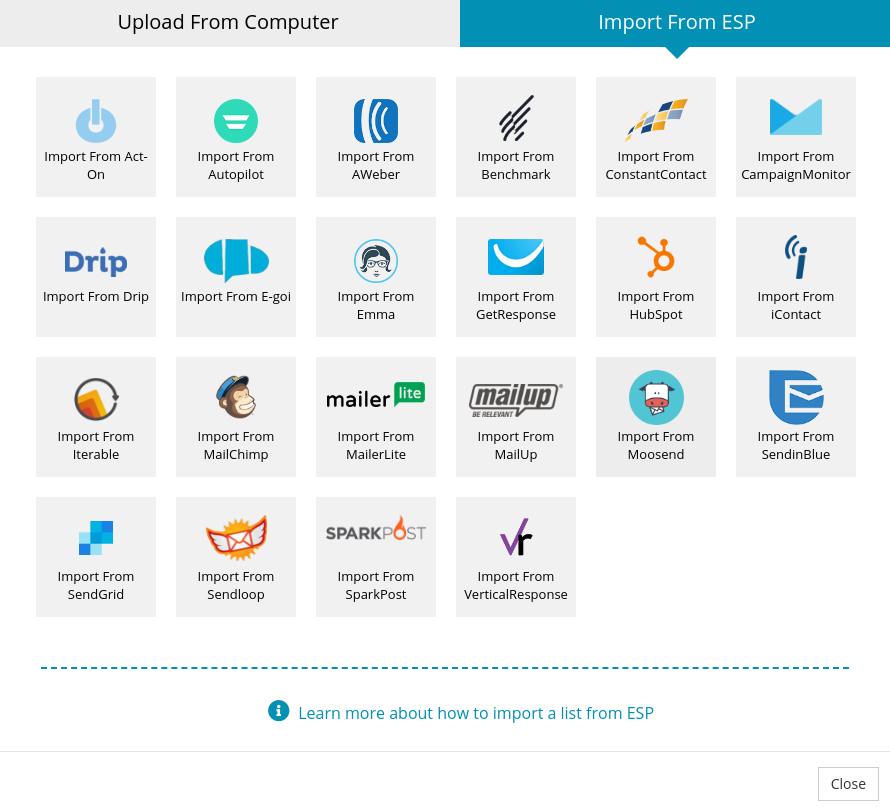 Now you're entering the integration where you'll need your MailerLite credentials. Key in your MailerLite API Key and hit Connect.
Rest assured. No MailerLite API key you enter is stored anywhere by QuickEmailVerification. Your privacy is important to us.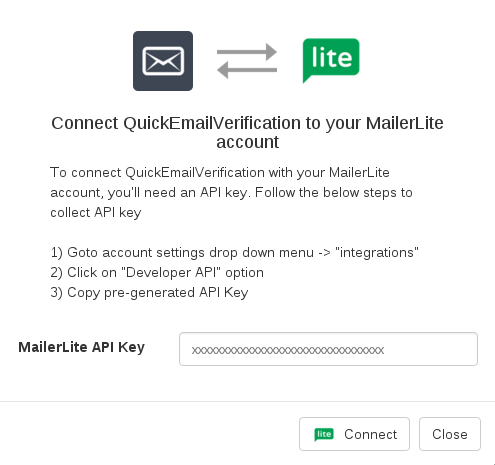 Import Subscriber Group from MailerLite
Once you've correctly keyed in your MailerLite credentials, it's time for the next step.
In this step you'll need to select which subscriber group you wish to verify. You'll see all your subscriber groups in the drop-down menu.
For the sake of example, we're going to select a subscriber group called 'Sample Group'. (You will, of course, choose your selected subscriber group.). Hit Import.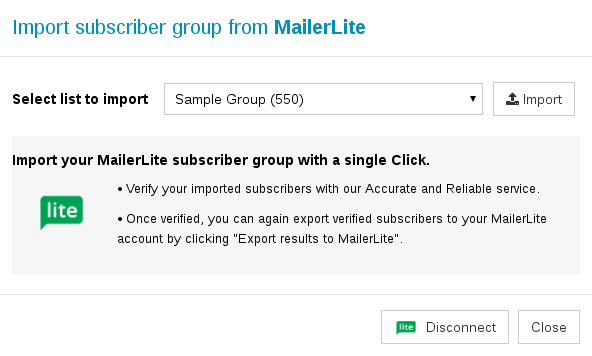 Now you'll see the verification job on screen, with your subscriber group on the top of the jobs. The verification job is waiting for your confirmation. Hit the Start button and the system will begin validating your subscriber group.

The time taken for the verification process depends on the number of subscribers in your subscriber group.
Note that at this stage, you are free to logout and carry out any other activity. Your logging out will not impact the verification going on.
Updating your MailerLite subscriber group
When your subscriber group is fully verified, you will receive an email notifying the subscriber group is clean and ready for download.
In case you had logged out, you will need to login with the same credentials as before. Under the title Verification Jobs, you'll see a Download button besides the verified MailerLite subscriber group.

We're going straight to export the results to your MailerLite account, so from the modal box, click on the option that says Export results to MailerLite.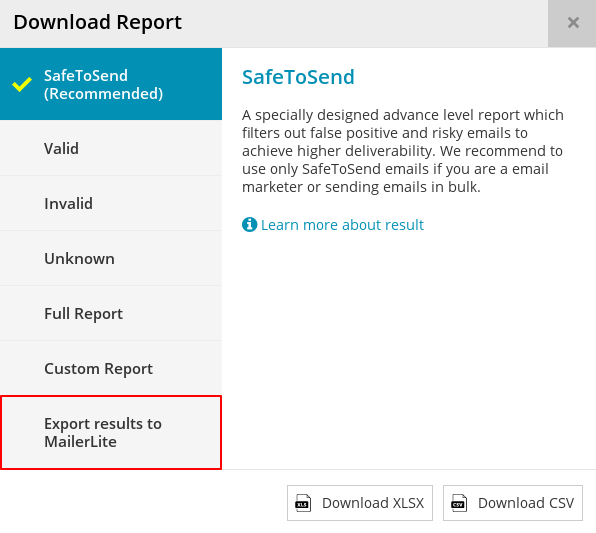 Please note you're now on an important stage of the export subscriber group process. This is where you decide how you're going to treat the verification results.
As you can see on the screen, there are a few checkboxes, default-checked. The email addresses that are grouped under "Email Result type: Valid" will all be taken to a newly created subscriber group. Keep this box checked.
Other email addresses will be given attributes "Role", "Disposable" or "Accept All". The email addresses associated with each box that is checked will not be carried into the new subscriber group. We recommend you maintain this recommended default settings.
If, however, you wish to include email addresses with a particular attribute, you need to uncheck that particular box.
Now hit Export.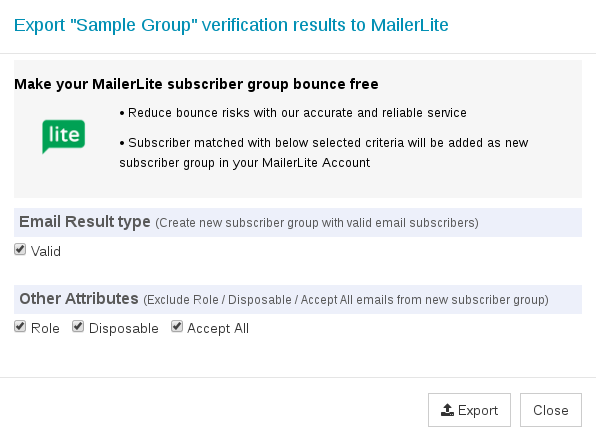 Before the email addresses are exported to the new subscriber group, you'll be asked to confirm. Click Yes Proceed so that the export is finally effected.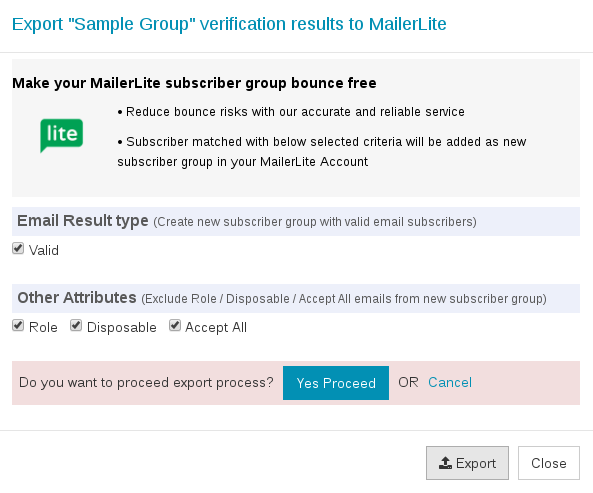 You'll see a message on the screen saying that in a few minutes the new subscriber group will be ready.
You'll receive an email message to your registered email address when the process is completed.
That's it!
Congratulations! You've, in a few simple steps, completely verified your subscriber group and created a new subscriber group that contains only good email addresses.
When you use the new subscriber group in your next campaign, you can expect significantly improved deliverability and practically no email bounces. This will positively impact your email marketing ROI too.
As you yourself experienced, the process is extremely easy and needs no technical knowledge. However, feel free to contact us via sending an email to support@quickemailverification.com for any assistance you may need. We'll be pleased to be of help!