Integrating with iContact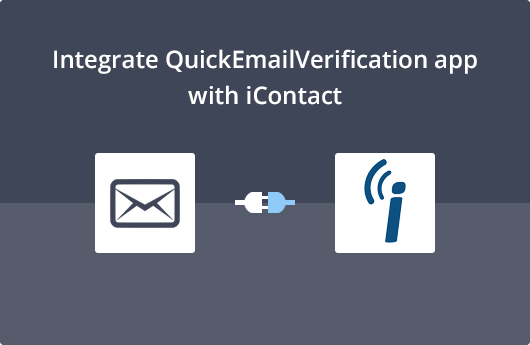 Getting Started
This document will help you easily use QuickEmailVerification and iContact together. It will help you validate your List and substantially improve your email deliverability.
All you need to get started is :
An account with QuickEmailVerification
Your iContact account credentials
If you don't have a QuickEmailVerification account, you can get your free account by signing up here. Once you sign up, you get 100 free credits every day for email verification.
Once you are ready with your account credentials of QuickEmailVerification and iContact, you can start the integration process.
Connect with iContact
First, log into your QuickEmailVerification account. After logging in you will see the following screen. Click the Upload Email List button.

At this stage your screen will show you two tabs :
Upload From Computer
Import From ESP
Since we are going to integrate with iContact, select Import From ESP. You'll see a list of different ESPs: select Import From iContact.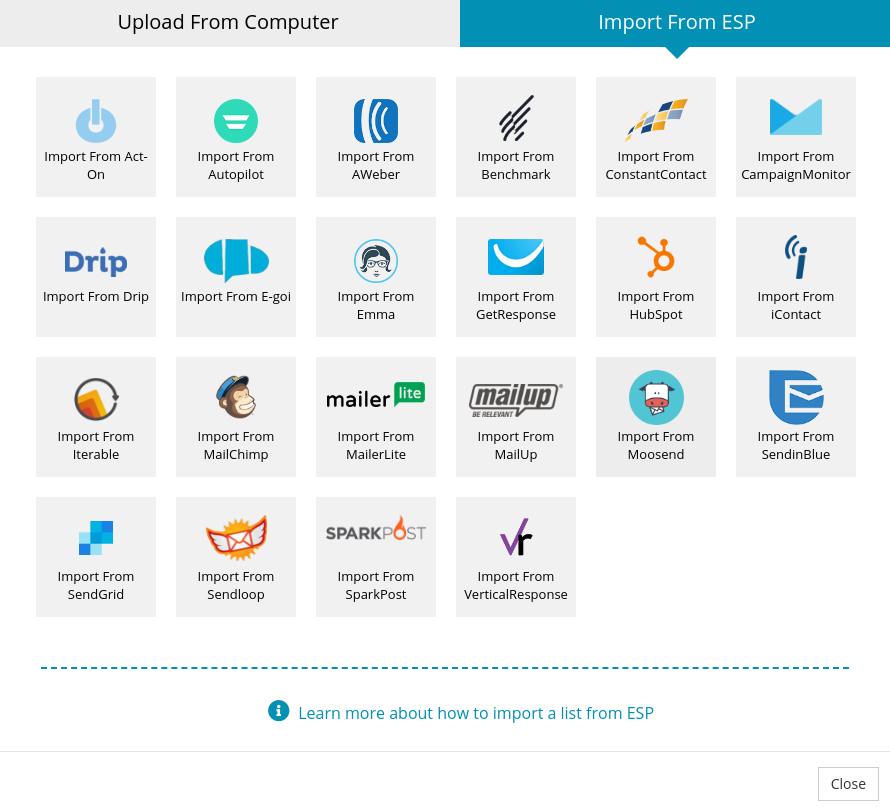 To connect with your iContact account, you'll be prompted to enter your Username, AppId and Password. If you have not created any API yet, follow the simple steps given in same window to create the API.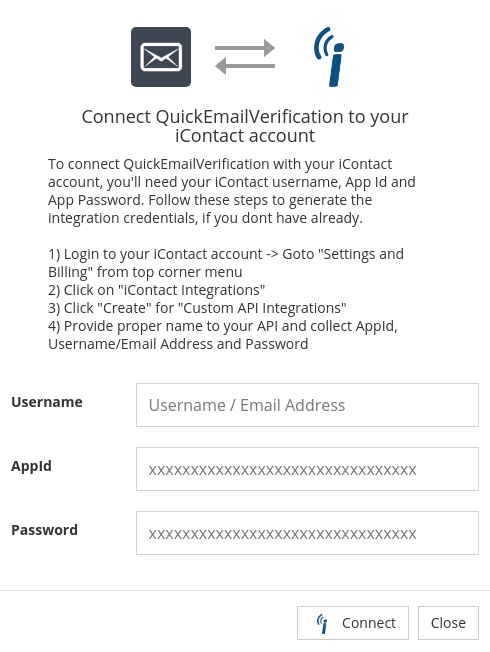 Your privacy is very important to us. Your iContact credentials are used only to communicate with your iContact account. These credentials are not stored anywhere by QuickEmailVerification.
Import List from iContact
After successful login to iContact account, it's time for the next step.
The next screen will show you list of clients you have in your iContact account. Select the client for which you want to import contact list.
Once client is selected, select the list which you'd like to clean and click Import.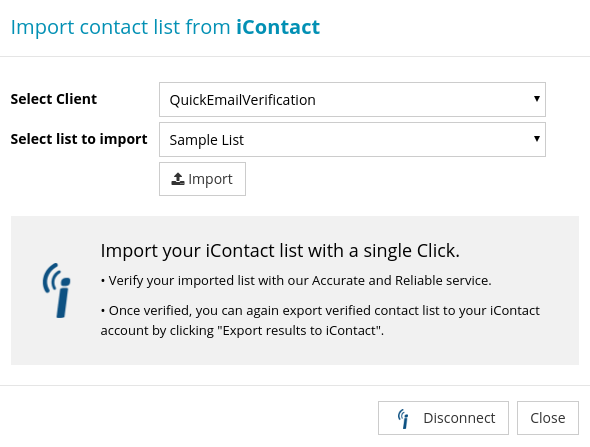 The list is imported and the verification process is about to begin. Click on the Start button to initiate the verification process. It may take upto a few minutes, depending upon the size of your list.

After you click Start, you're free to logout and attend to other tasks while our system conducts the verification process. Your logging out will not affect the verification process.
Export results to iContact
When our verification process has cleaned your list, you will receive an email saying the list is clean and ready for download.
You'll see a button titled Download. Click on it.

You'll see a modal box offering what you'd like to do with the list. Click on Export results to iContact. If you had logged out after clicking on Start, you'll need to login again before you reach this window.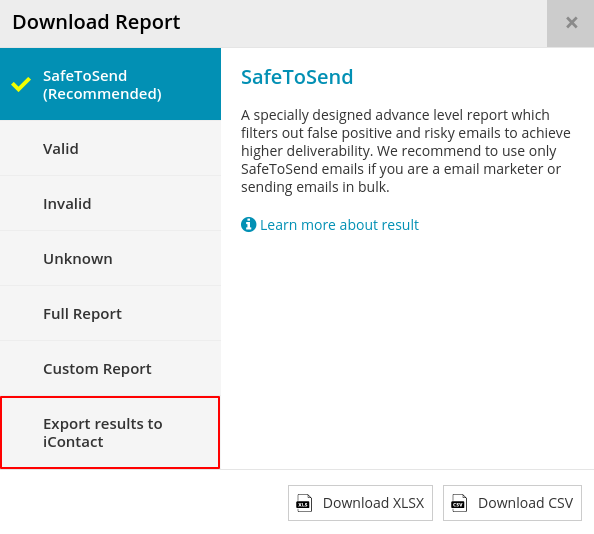 Please note you're now on an important stage of the export result process. This is where you decide how you're going to treat the verification results.
As you can see on the screen, there are a few checkboxes, default-checked. The email addresses that are grouped under "Email Result type: Valid" will all be taken to a newly created list. Keep this box checked.
Other email addresses will be given attributes "Role", "Disposable" or "Accept All". The email addresses associated with each box that is checked will not be carried into the new list. We suggest you maintain these recommended default settings.
If, however, you wish to include email addresses with a particular attribute, you need to uncheck that particular box.
Now hit Export.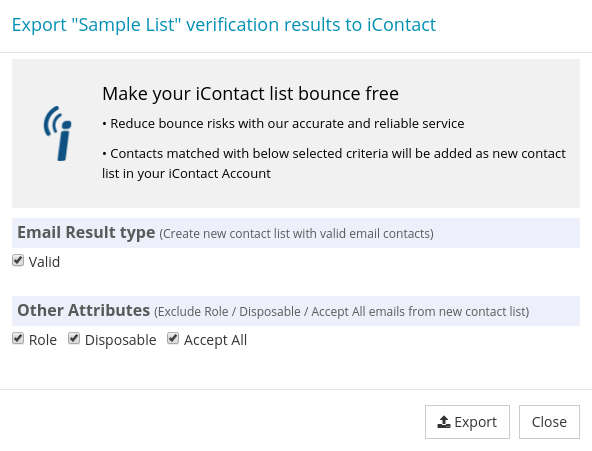 You'll be asked to confirm your action by clicking on Yes Proceed.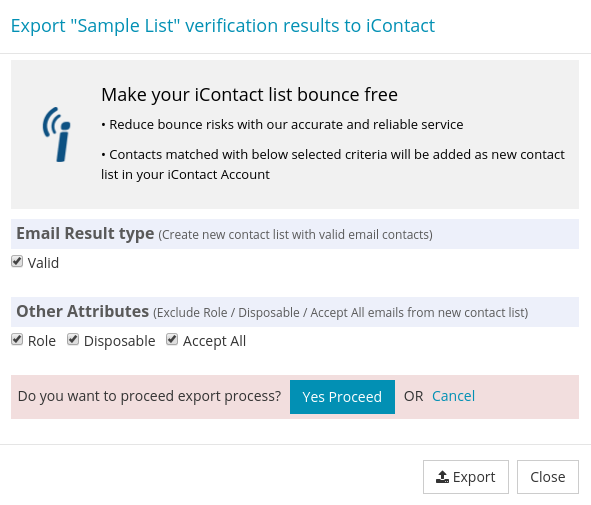 After your confirmation, the system will begin creating a new list as per your choices. At this stage, you'll receive another email telling you a new list has been created.
That's it!
Congratulations! In a few simple steps, you've completely verified your iContact list and created a new list that's safe to send. You can expect a considerably higher deliverability and a much better ROI when you use the verified list.
If you face any problems while integrating iConatct with QuickEmailVerification, please write to us on support@quickemailverification.com. We will be right there to help you.