Integrating with Emma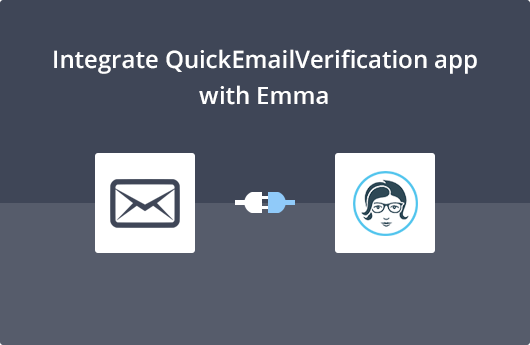 Getting Started
This brief document helps you understand the integration of QuickEmailVerification with Emma. The integration will help you validate your email list, boost deliverability and reduce email bounces to practically nil.
All you need to get started is
Your Account credentials of QuickEmailVerification
Your Account credentials of Emma
In case you haven't signed up for QuickEmailVerification, you'll want to do it right away! Once you signup you can verify 100 email addresses daily, absolutely free! Click here to signup.
Once you have the credentials, you are ready to get started.
Connect with Emma
Sign in into your QuickEmailVerficiation account. You'll see an Upload Email List button. Click on the button and you'll be taken to the next screen.

At this stage your screen will show you two tabs
Upload From Computer
Import From ESP
You're looking to clean your email list you've parked in Emma, which is the ESP of your choice. Hence click on the tab Import From ESP.
The next screen will show you all the integrations of QuickEmailVerification. Since you wish to validate your email list on Emaa, click Import from Emma.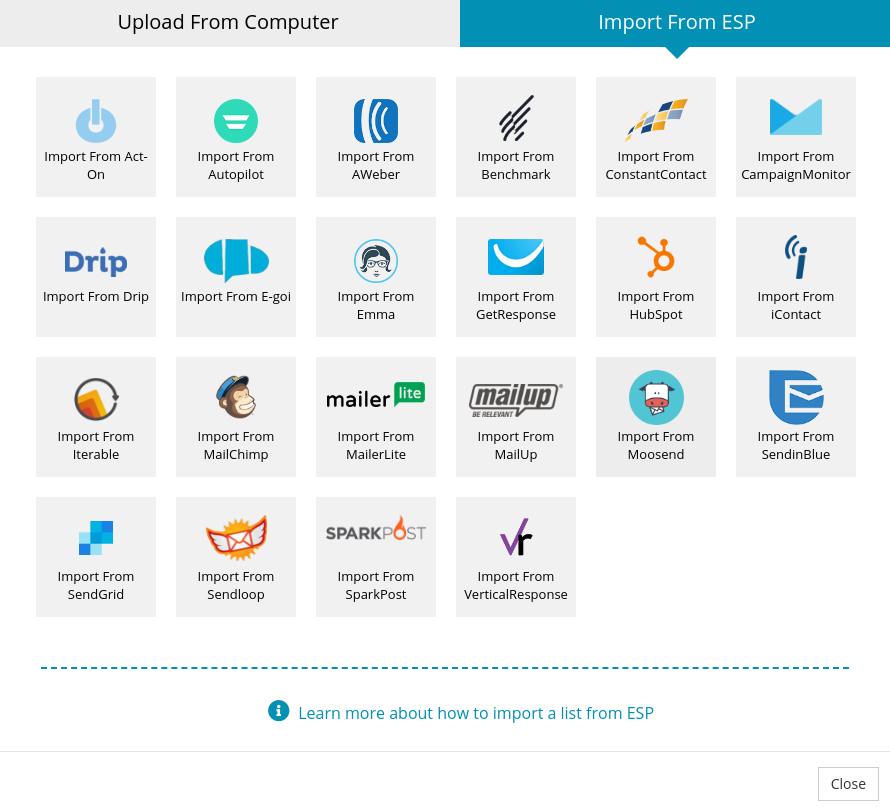 The next screen will ask you to key in your Emma credentials. If you have not created any API key yet, follow simple steps are given in same window to create the one.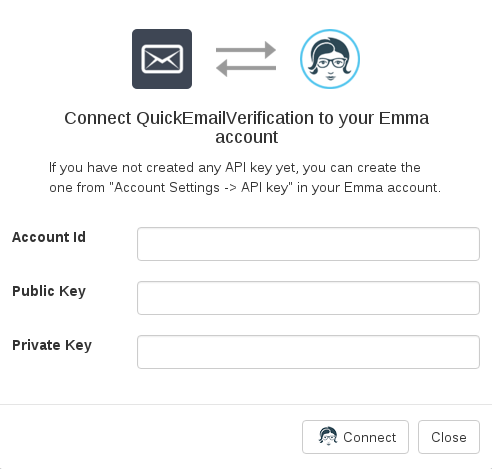 Your credentials are safe. QuickEmailVerification does not store your Emma credentials entered in above login page.
Import member group from Emma
After successfully signing in, you are now in your Emma account.
This is the time you're required to select which email group you'd like to verify. For the purpose of illustration, we will select Sample Group here. Now click Import to import the group named Sample Group.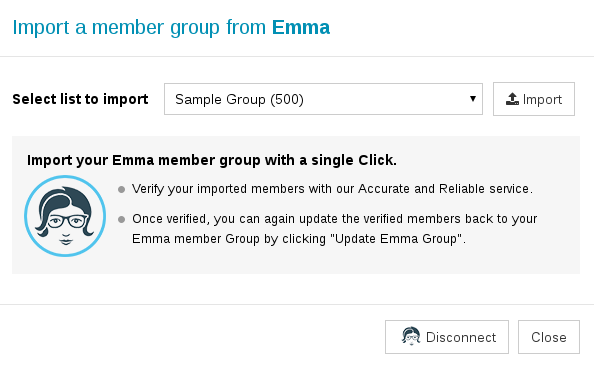 The moment you click Import, your email list is ready for verification. Click Start to begin the verification process.

How long the email verification takes depends upon the size of your email group.
After you click Start, you are free to logout and carry out other activities while the verification process is going on. Logging out will not interrupt the verification process.
Updating your Emma Group
When our verification process has cleaned your member group, you will receive an email saying the list is clean and ready for download.
If you had logged out while the process was on, no problem, you can login to your QuickEmailVerification account again. On the screen, click on the Download.

You'll see a number of options in the modal box. Select Update Emma Group.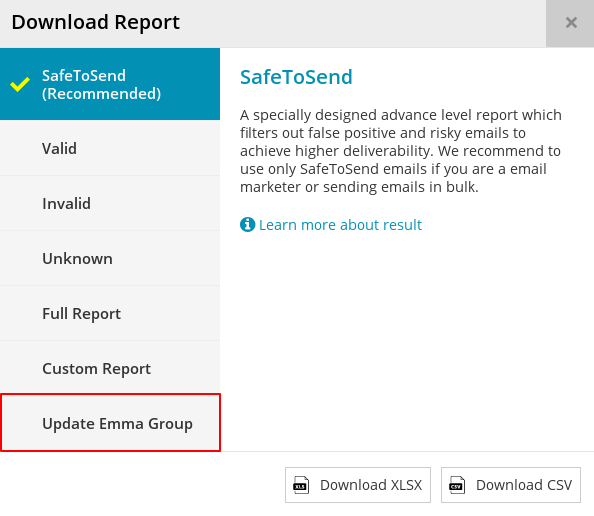 Now you're on a screen that's important. This screen provides you with options on how you'd like to deal with your Emma group verification results.
In the lower half of this screen, you'll see five checkboxes. If a box is checked, all member email addresses associated with that particular checkbox will be deleted from your Emma active member list.
You'll notice four of the five checkboxes are checked by default. If you wish you may check / uncheck any box as per your preferences. However, we recommend you do not change the default selection.
Finally, click on the Update button at the bottom. Remember that clicking this button will delete those contacts (matched with the criteria in boxes that are checked) from the active section of member group. After deletion, Such members can be found in the "Contacts" section of "Deleted Items" of your Emma account.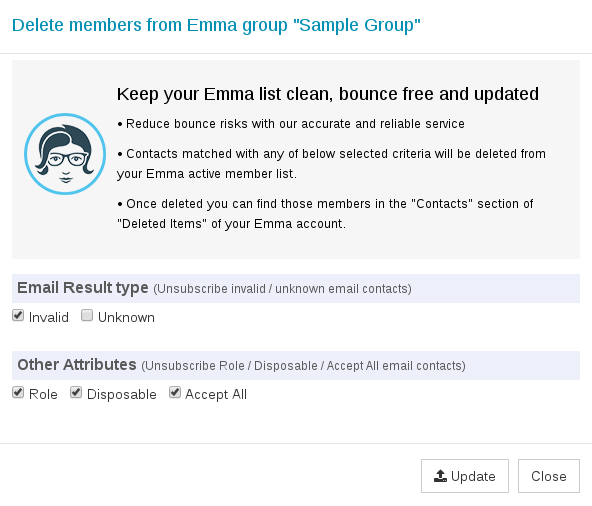 You'll be asked to confirm your action by clicking on Yes Proceed.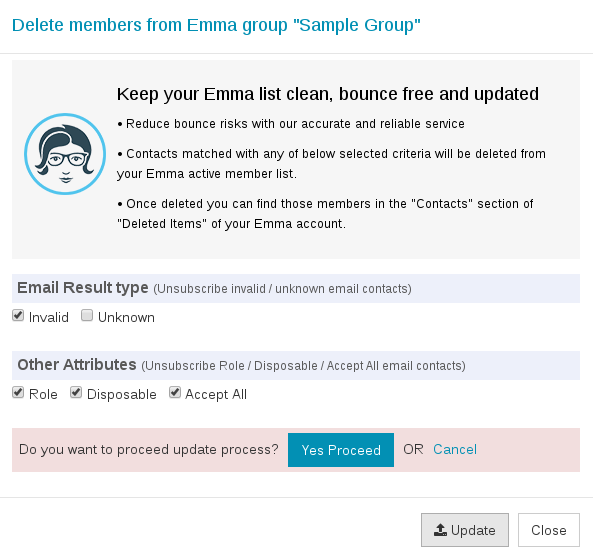 A message saying the deletion is in process will flash on your screen. When the process is completed you'll receive another email saying the process is completed and your Emma member group has been updated.
That's it!
Congratulations! With these simple steps, you've just completed verifying your list! Now your Emma group will only contain those addresses that are safe to send. When you next send an email to these addresses, you'll see a big increase in your deliverability and practically no bounces.
The process is quite easy and smooth. Yet in case you need help, do not hesitate to shoot an email to support@quickemailverification.com and we'll happily help you.