Integrating with ConstantContact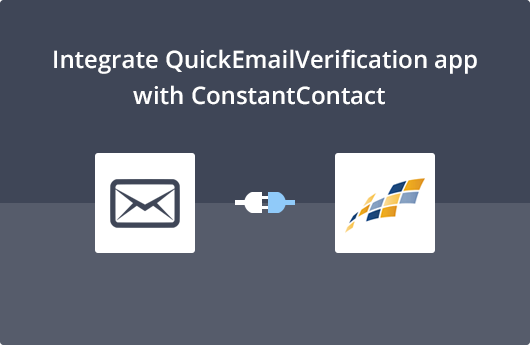 Getting Started
The objective of this document is to guide you through very simple process that will help you integrate your ConstantContact account with your QuickEmailVerification account. Once integrated, you will be able to clean your email list and achieve a much higher email deliverability.
The following two are the only things you'll need to integrate the accounts:
Account credentials of QuickEmailVerification
Credentials of your ConstantContact account
If you haven't registered with QuickEmailVerification, let's do it now! Sign up to register for your free account with QuickEmailVerification. Once you are registered with the service, you can verify 100 emails daily at no cost.
Once you are ready with QuickEmailVerification and ConstantContact account credentials, you are all set to start.
Connect with ConstantContact
Once you log into your QuickEmailVerification account, the very first page will show an option to upload a file.

Click on Upload Email List and you'll see a screen similar to the one below. Its contains two sections:
Upload From Computer
Import From ESP
You wish to clean your contact list in your ConstantContact account, so select Import From ESP. You'll see a list of all the ESPs that QuickEmailVerification has integration arrangement with. Click on Import From ConstantContact.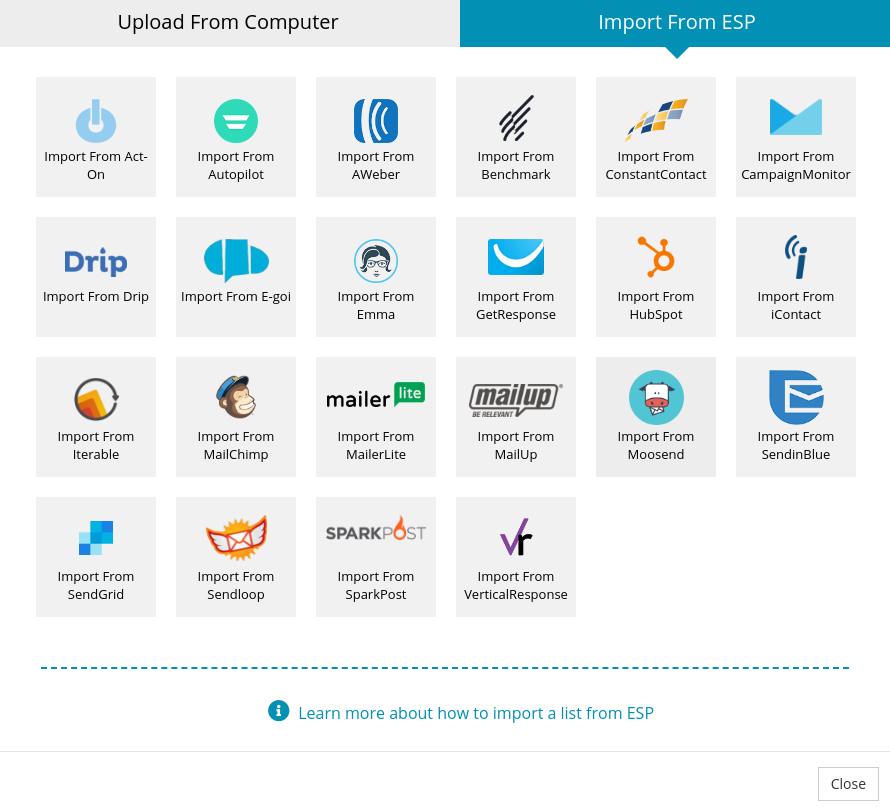 Next, enter your ConstantContact credentials to proceed.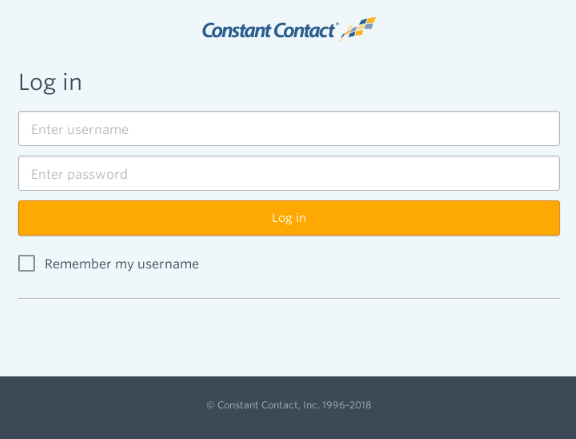 QuickEmailVerification does not store your ConstantContact account credentials. These details are directly transferred to ConstantContact.
Import Contact List from ConstantContact
After you log into your ConstantContact account, the next screen will ask you to grant access to QuickEmailVerification. Click Allow. This access enables QuickEmailVerification to import your contact list.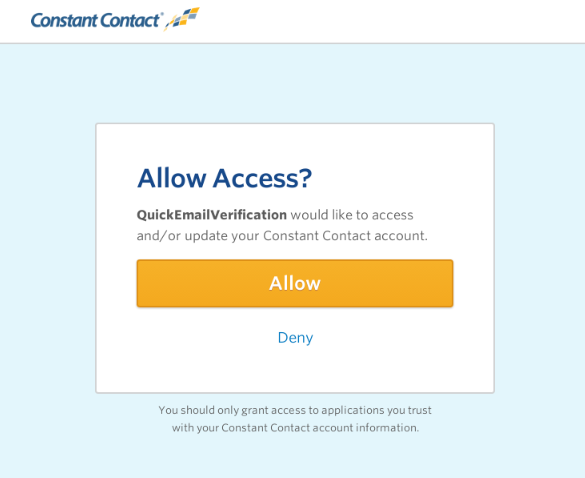 The next step is to import the contact list that you wish to get cleaned. From the drop down menu of contact list, select the appropriate contact list and click Import.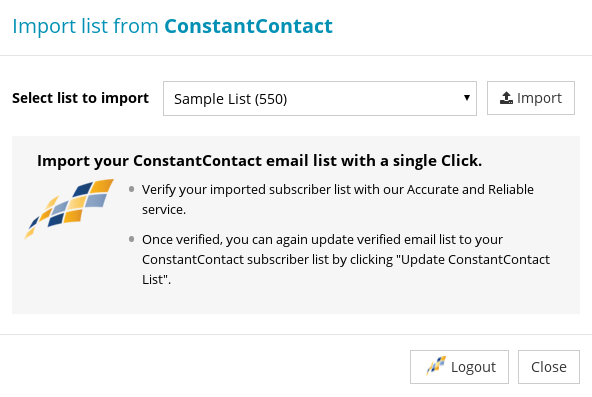 In a while, you'll see your selected contact is imported and showing up on the screen. Its ready for verification. Just click on Start button and the system will start verifying your contact list.

Depending on the size of contact list, verification process will take upto few minutes to complete.
While verification process is going on you can safely log out and carry out any other activities. Your logging out does not disturb the verification process in any way.
Update ConstantContact List
Upon completion of verification, you will receive an email notifying you. At this stage, your list is ready for the next step of exporting it back to ConstantContact.
If in case you had logged out, just log in again for the next step. Beside your imported list, you'll see Download button.

Click on that and then select Update ConstantContact List from modal box.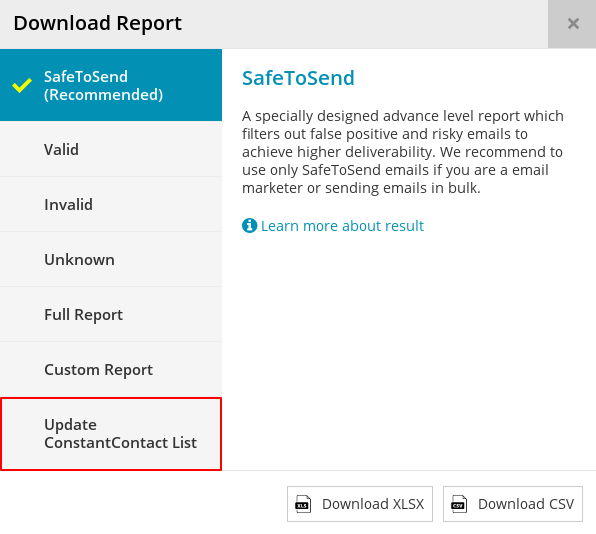 The next screen you see is an important stage of the export process. Here you decide which email addresses you would like to remove from your contact list.
You'll see five these check-boxes are selected by default : Invalid, Unknown, Role, Disposable and Accept All. Emails classified under the boxes that are checked will be removed. Email addresses classified under boxes that are not checked will be kept on your contact list and your ESP will continue trying to send emails whenever you schedule your campaign.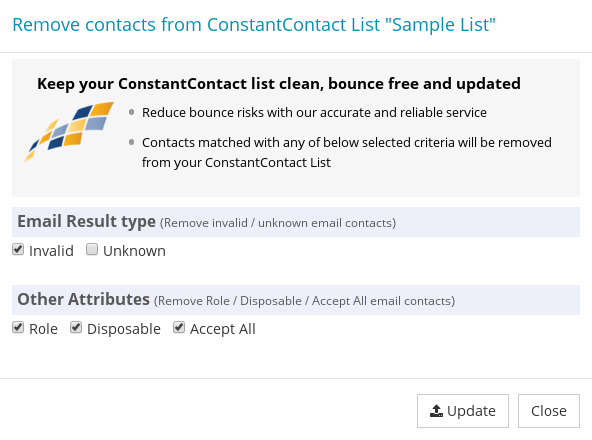 An email address associated with a box that is checked will be removed from your updated contact list and such email addresses are not eligible to receive future campaign emails.
You can alter these settings as per your need but we strongly recommend you keep the default selection unchanged to achieve better deliverability.
Click Update and it will ask for final confirmation. Click on Yes Proceed.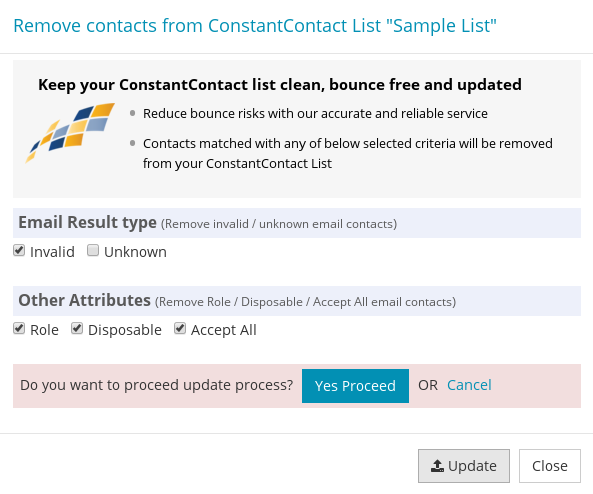 When your contact list is updated, you'll receive an email informing you about it.
That's it!
Congratulations! You've completed the integration process!
You've just seen that the integration process is very easy and straightforward. At the end, these will be some of the key benefits to you: decreased bounce rate, increased email deliverability and better campaign ROI.
If you face any problems at any stage of the integration, please contact us at support@quickemailverification.com. We'll be delighted to help you!