Integrating with AWeber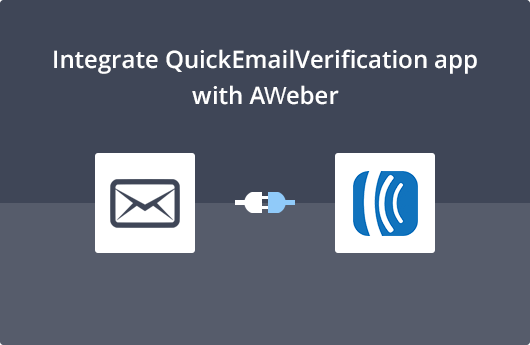 Getting Started
To use this integration, you'll need
Your Account credentials of QuickEmailVerification
Your Account credentials of AWeber
In case you don't have a QuickEmailVerification account, you can create a free account here and get daily 100 credits free.
Step 1: Connect to AWeber
The integration is extremely easy and quick. After you log in into your QuickEmailVerification, you will see the button Upload Email List on the Email Verification page.

Click on that link and you will be taken to the next screen.
On the top of that screen, you will see two tabs:
(1) Upload from Computer (2) Import from ESP. ESP stands for Email Service Provider. In this case, AWeber is your ESP.
Since you wish to clean your mailing list that is parked in your AWeber account, click on Import from ESP.
The next page will prompt you to select your ESP from a list of our integrations with leading ESPs. Since you will be using AWeber services, click on Import from AWeber.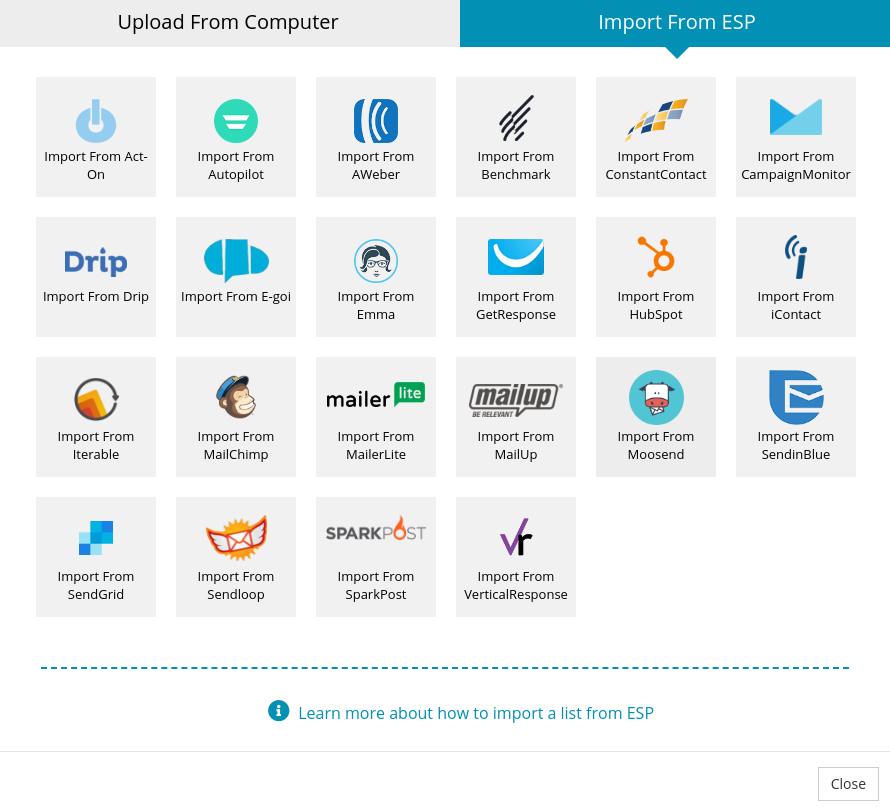 That will bring you to your AWeber account. Key in your credentials and you are now connected to your AWeber account.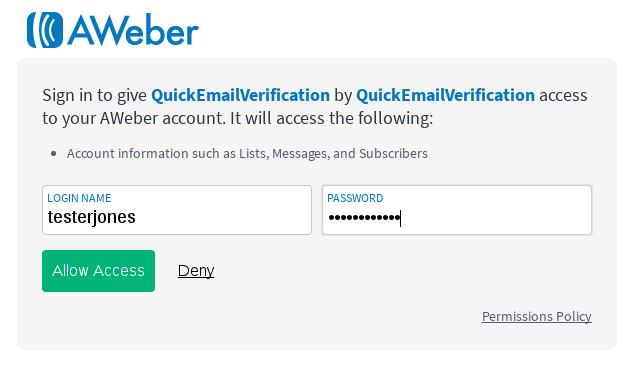 QuickEmailVerification does not store the AWeber credentials entered in above login page and it's accessible only by AWeber.
Step 2: Selecting the email list for verification
You will see a prompt asking which of the lists from the drop-down menu you'd like to verify. Select the one you want and click Import.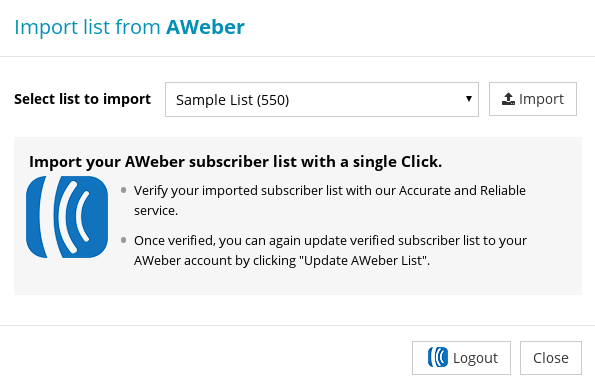 For the purpose of this illustration, we have selected Sample List from the drop-down menu. Once your list is imported and ready for verification, you will see the Start button, next to your list.
Click on Start and the email verification process will begin.

You will see a message on the screen, letting you know the verification process has begun. Depending upon the size of your mailing list, it may take a few minutes.
While the verification process is going on, you may choose to log out. It will not affect the verification process in any way. You will receive an email once the verification process is completed and the list is cleaned.
Step 3: Updating AWeber account with a verified mailing list
The moment the list verification task is finished, you will receive an email saying the task is completed. Notice that the email also carries a summary of results of the entire list cleaning.
When you go back to your QuickEmailVerification account, you will see the following. Click on Download button.

A modal box will open. You may either Download your verified list or Update it in your AWeber account. At the bottom of modal box you'll see the option Update AWeber List. Click there and you will see the next screen.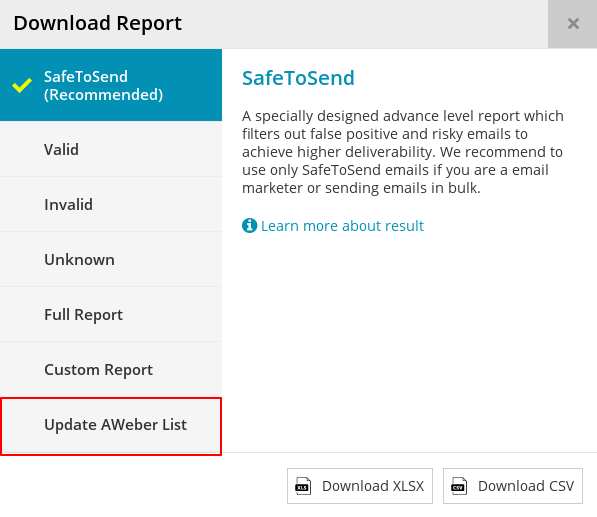 The following screen is important because here's where you decide which of the addresses you'd like to remove from your Subscriber List.
You'll see five check-boxes titled : Invalid, Unknown, Role, Disposable, Accept All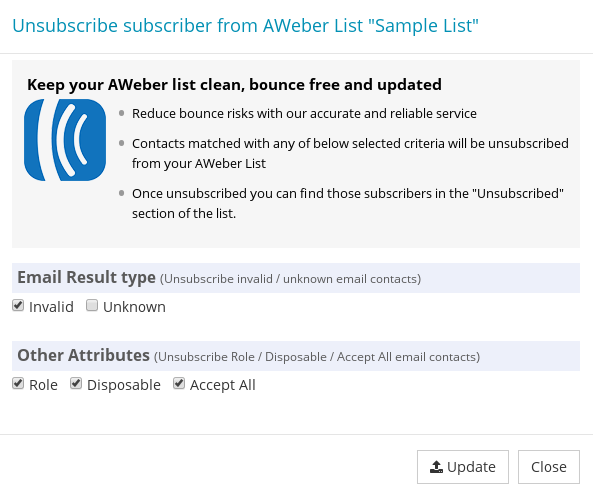 Email addresses associated with the respective boxes that you check will be unsubscribed. Please note by default you will see all but Unknown checked. This is what we recommend for the best deliverability, but you are free to make changes if you wish.
Henceforth, your emails won't be sent to addresses associated with the checked boxes (unless recipients voluntarily opt-in your subscription list again).
Once you have checked / unchecked boxes as per your choice, click on Update button at the bottom. The next screen will show you a confirmation message as follow. Next, click Yes Proceed to confirm.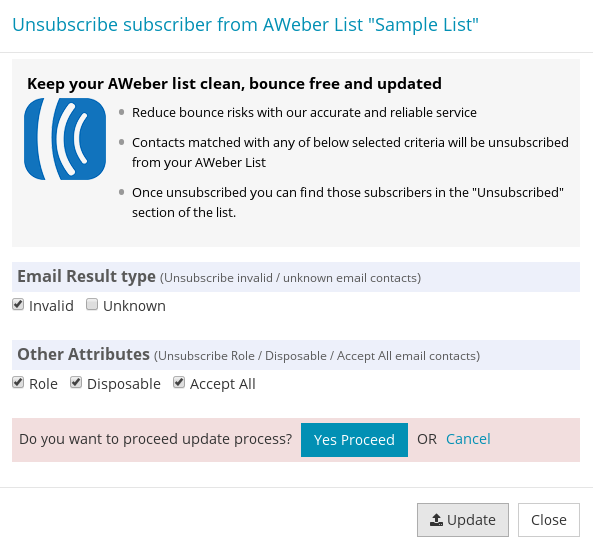 This process may take upto a few minutes, depending upon the size of the task.
That's it! You're done!
Congratulations! You've just finished verifying your selected list! To verify additional lists, simply repeat the above steps.
With your verified list, you can enjoy higher deliverability, practically zero bounces, a higher ROI to your marketing campaign and a lot more.
Feel free to contact us on support@quickemailverification.com in case you still need assistance. We'll be happy to help!