Integrating with ActOn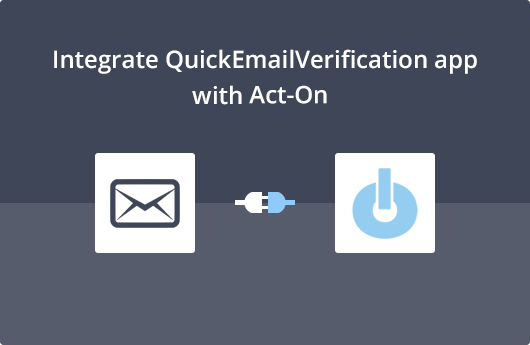 Getting Started
This document will help you easily integrate your QuickEmailVerification account with Act-On. After integrating your Act-On account, you will be able to clean your email list and achieve a much higher email deliverability.
It's easy to begin, you'll just need:
Your QuickEmailVerification account credentials
Your Act-On account credentials
If you don't have an QuickEmailVerification account yet, you can easily Sign Up and get benefit of 100 free email verification credits on a daily basis.
Once you have the credentials, you are ready to get started.
Connect with Act-On
To start verification using this integration, you'll need to login into your QuickEmailVerification account. After you login you'll see Upload Email List button.

Click on that button. After that you'll see the following two tabs:
Upload From Computer
Import From ESP
You're looking to clean your email list from Act-On, which is the ESP of your choice. Hence click on the tab Import From ESP. On the next screen you'll see all the ESPs we've partnered with, select Import From Act-On.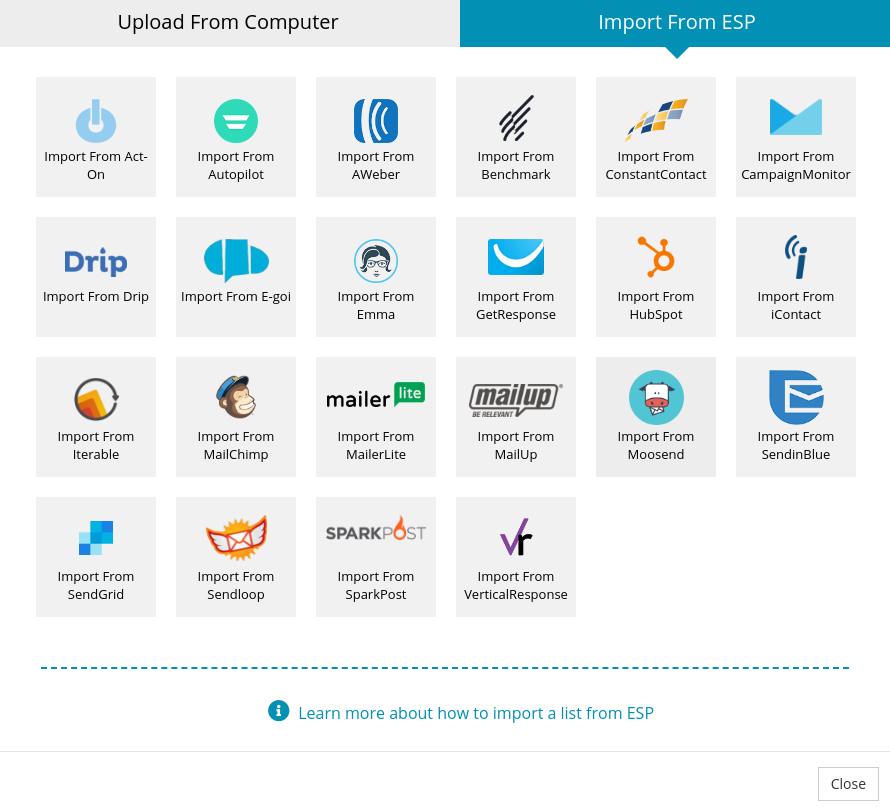 A new window will appear asking you to authorize QuickEmailVerification to access your Act-On account, fill in your Act-On account credentials.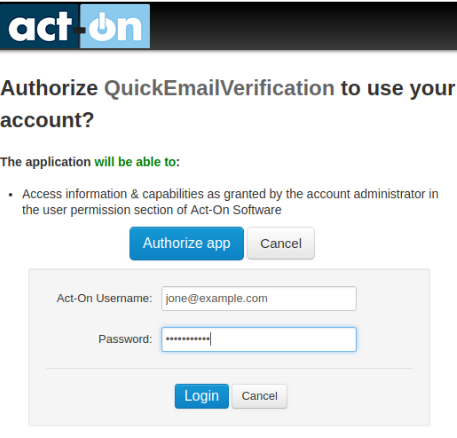 We respect your privacy. QuickEmailVerification does not store your Act-On account credentials. These details are only accessible by Act-On itself.
Import Contact List from Act-On
After successful login to Act-On account, you'll see a screen containing contact list in a drop-down menu. You will be required to select which contact list you'd like to verify and then click Import.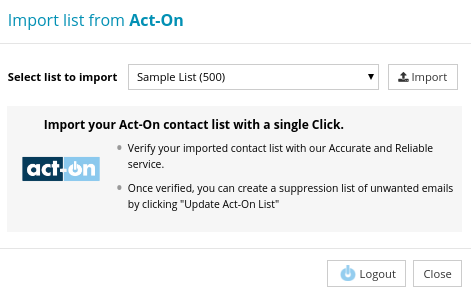 After you click Import, your contact list is ready for verification. Click Start to begin the verification process.

After you click Start, you can logout from QuickEmailVerification if you wish to attend other tasks. Logging out will not interrupt the verification process. Once your email list get cleaned you will be notified by an email.
Update Act-On Contact List
When your contact list is verified, you will receive an email stating your contact list is cleaned. With this, the list is ready for the next step.
In case you had logged out, you may again login with your QuickEmailVerification credentials. On the screen you'll see a Download button.

By clicking on that button, a modal box will open and you may need to select Update Act-On List. If you were away and logged out from the site, you may need to connect to your Act-On account as before.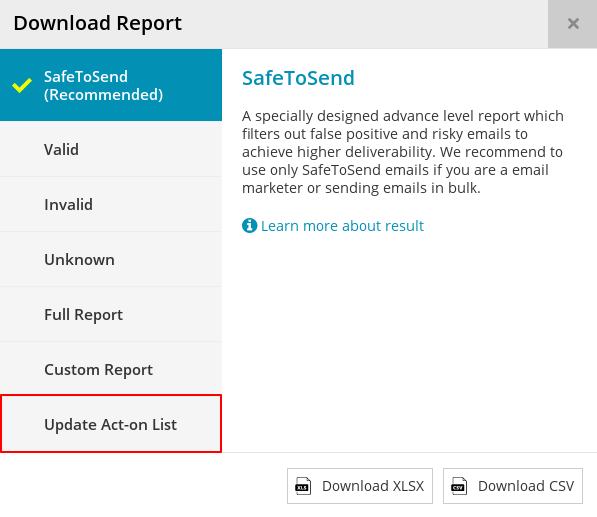 The next stage is important. This is the stage where you decide which of the emails you'd like to move to the suppression list. Suppression list is the list of email addresses which should be ignored while sending emails. In other words, these are the email addresses to which you should no longer attempt sending emails.
You'll see five check-boxes titled : Invalid, Unknown, Role, Disposable, Accept All
Some of the checkboxes are already checked as default status. You are free to change their status, but we recommend you do not make any changes here.
Please note that when you update the Act-On list from our service, we create a new suppression list that will contain bad emails which you have selected to export. Your original list will remain unchanged.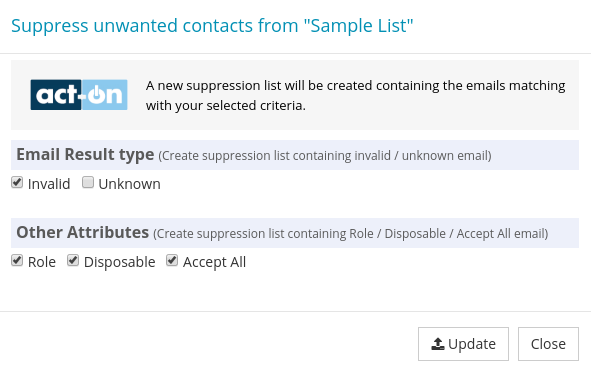 Click on Update. It will ask for final confirmation, so click Yes Proceed and confirm your action.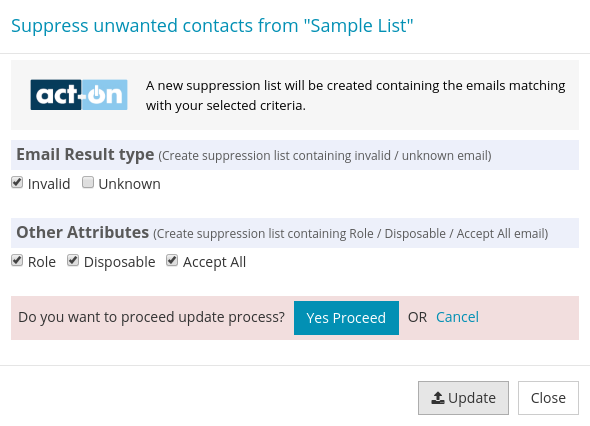 When your contact list is updated, you'll receive an email informing you about it.
That's it!
Congratulations! With these simple steps, you've verified your list. Using this, you get increased deliverability of your emails, which will give a better ROI for your campaign.
If you face any problems while integrating Act-On with QuickEmailVerification, please write to us on support@quickemailverification.com, we will be right there to help you.