Uploading Email List
To verify the list of emails in bulk, you can upload your email list on QuickEmailVerification and verify it in just a few minutes. To ensure QuickEmailVerification can detect and verify your emails correctly, follow file format and upload guideline. Read more about Supported File Formats and Troubleshooting File Upload.
Drag & drop a file
After login to QuickEmailVerification client area, simply drag a file from your system and drop anywhere inside our file drag and drop area.

Upload file from your system
To browse and upload the file from your local system, go with "Upload Email List" button and click "Choose File".

Check into the file format guidelines and how credits are counted by visiting "Click to check supported file format & credit calculation".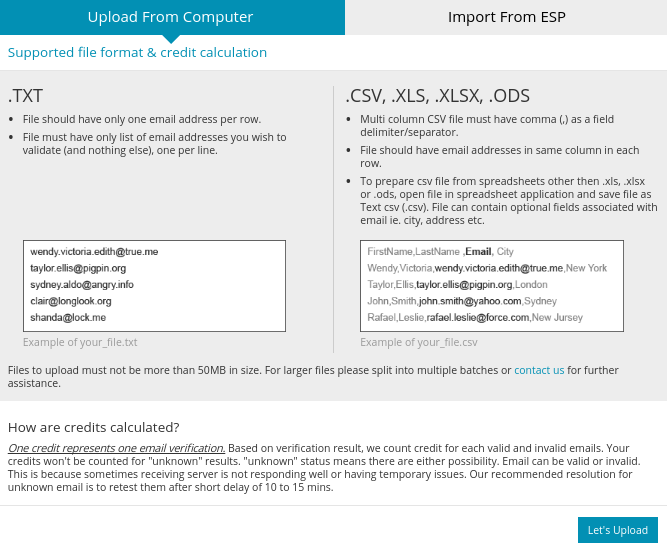 Preparing file for verification
Once the file is uploaded, QuickEmailVerification will scan through the file, which takes few moments. Generally, file is prepared in two stages, before passing for the final verification.
Importing - QuickEmailVerification is importing your file from your system or ESP account, which generally takes a few seconds.
Analyzing - QuickEmailVerification is scanning your file for correctness and alerts you if any problem found with the file content during this stage.
Start verification
Once the file has been analyzed, it will be ready to start verification. Finally, you just need to click "Start" to actually start the email verification process. You may safely logout from the QuickEmailVerification client area after starting the verification process. Once the verification is completed, you will receive a notification email with a summary of verification result.

You can download email verification reports after login into your client area. Read Downloading verification reports to learn more about various download options.
Delete file
Email lists uploaded on QuickEmailVerification will be retained for a period of 90 (Ninety) days past the date of uploading. After that, it will be automatically and permanently removed from QuickEmailVerification servers.
If you want to remove your data before its automatic removal, you can delete uploaded file by clicking the "Delete" button. Deleting file will permanently remove your file as well as all the verification reports associated with it from QuickEmailVerifcation servers and this action cannot be reverted.

You can also import and clean email lists kept in your Email Service Provider account using our ESP integrations, which can help in boosting deliverability rates of your email campaigns.