Downloading Verification Reports
After successful verification of the email list, a detailed report about the quality and existence of each email is generated. QuickEmailVerification offers several specially designed email verification reports, from which you can select the one as per your requirements. Along with that, you can generate "Custom Report" as per your custom need.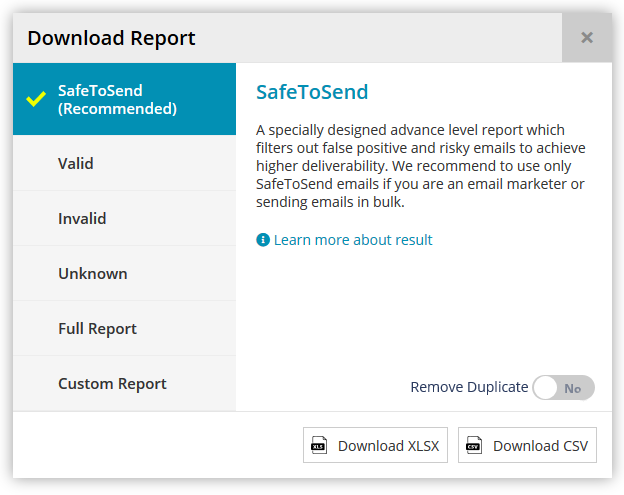 SafeToSend
Emails labeled as valid solely is not enough to decide its deliverability. QuickEmailVerification performs advance level filtering to identify good quality email addresses from the email list to achieve the best deliverability and reduce bounces. "SafeToSend" list contains less risky and highly deliverable email addresses which will increase open rates of your marketing campaign.
QuickEmailVerification highly recommends to use "SafeToSend" list only for marketing emails.
Valid
Emails found positive about its existence by our email verification check are set "Valid". "Valid" report option is a special report to keep only such emails and keep non-existing, non-determined emails out.

Even though emails are marked as valid, there is still some level of uncertainty involved. For instance "Accept All" and "Disposable" emails. Sending emails to such email addresses contains the risk of being bounced and so extra care should be taken while sending emails to such email addresses, like avoid sending bulk emails to "Accept-All" contacts in a small period of time. "Disposable" emails must be removed from all contact lists or database and any emails must not be sent to such addresses.
To download only the valid result click 'Valid' from the download option list. Only valid emails should be used to send the email.
Invalid
"Invalid" emails report contains all emails marked "Invalid" due to either mailbox in-existence, incorrect syntax or invalid domain. Such contacts should be removed from the subscriber list and discontinued for email sending. To download only invalid result click 'Invalid' from the download reports option list.
Unknown
Sometimes, the domain associated with the email temporarily defers the response of the mailbox existence check, because the receiving mail server may have some intermittent issues like heavy load or slow speed. Such emails are marked as "Unknown" and they should be re-verified after a short delay of 5 or 10 minutes.

You can keep such emails separate by downloading our "Unknown" emails report. QuickEmailVerification recommends to reverify such emails with our "Reverify" option.
Full Report
A "Full Report" contains a detailed report about every email of the uploaded list. This report contains all "Valid", "Invalid" and "Unknown" emails together. Click "Full Report" to download this report which you can use to process further.
Custom Report
If you need to create a custom report out of verification result, use our "Custom Report" download option.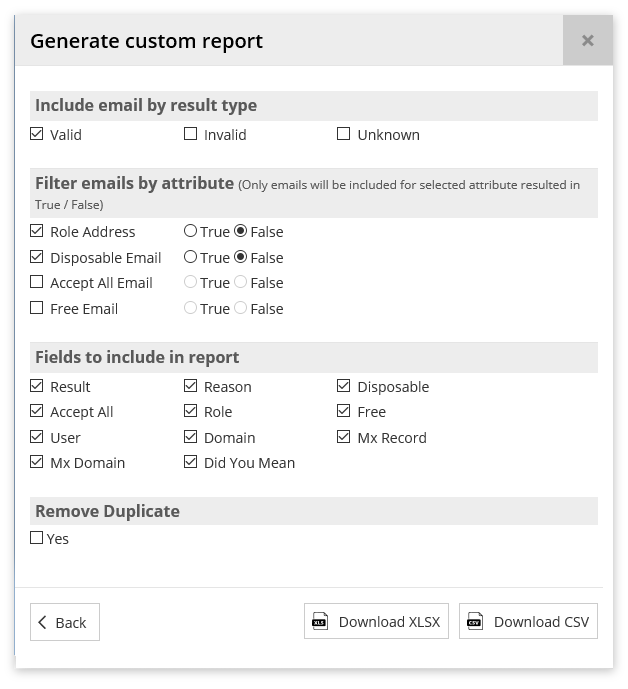 Select/Deselect "Valid", "Invalid" or "Unknown" checkbox from the email result section to keep them or remove them from the final report. To refine the report further you can select/deselect attribute checkboxes and set its value to the one you want the emails in the custom report should match. You can also select the specific result column to be included in or excluded from the custom report.
For example, If you require to export all valid "Role Address" emails with only email and result column in the final report, you can generate such list using the "Custom Report" option as below.
Select "valid" email checkbox
Select "Role Address" check box from filter section and set its value to True to export such emails
Select "Disposable Email" checkbox from the filter section and set its value to False to exclude such emails
Select "Accept All Email" checkbox from the filter section and set its value to False to exclude such emails
In Filed to include section, select fields you need in the final report. i.e Email and Result
Export results back to your ESP
If you have imported your list from ESP, check Update your ESP subscriber list section to learn more about how to export verification result back to your ESP.